Enrollment
Transport Logistics Consultants (TLC) has provided a range of training courses to FESARTA to publish and administer. These courses cover a wide range of topics that would be beneficial to the transport organisation and its drivers. They range from Road Safety topics to Loading and Transportation of Hazardous materials.
---
HERE IS THE LINK TO THE ENROLLMENT FORMS TO APPLY FOR ACCESS TO THE TRAINING COURSES
---
Listed below is a catalogue of courses for your selection:
ROAD SAFETY:
This lesson covers the basic safety check that should be done every day before driving the vehicle. This is an important task that many drivers do not adhere to and this contributes to road accident statistics. It provides drivers with the basics of a checklist and what it covers. It also provides some guidelines for setting up your own checklist.
This lesson Deals with some basic safety tips for truck drivers. It covers a large range of topics but is condensed into 8 topics, 9 including the introduction. Most of these safety tips are the same as is discussed internationally and can be considered as uniform no matter where you may be driving the truck. All truck drivers should know these as general knowledge.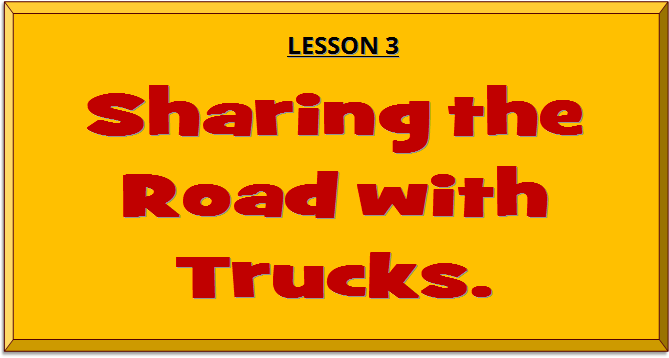 This lesson deals with a topic that has been a problem for as long as there were cars. With different types of vehicles on the roads, it becomes a problem when they each have their own requirements and this may impact other road users in some way. But there are ways of reducing this impact. One of the most effective and most obvious ways is to provide the drivers with a view as to what these different requirements are and what is the sensible thing for drivers to do when dealing with this problem daily. This course addresses some of the issues.
This lesson puts its focus on speed and keeping safe around larger vehicles. The second part on safety is all very basic and just confirms some of the aspects that must be considered by both drivers and pedestrians. The focus of this course is more on speed. This is one of the biggest causes of accidents. Making drivers aware of the danger is really difficult because of the repetitive nature of their duties which leads to familiarisation and this results in them losing their awareness of the dangers of speed.
---
DRIVING DISTRACTIONS AND CHALLENGES: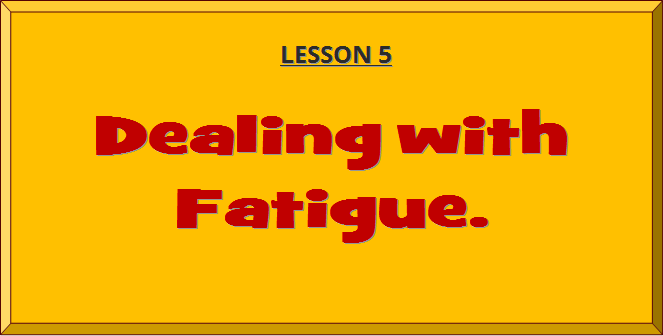 This course deals with fatigue and its effects on drivers. This is probably one of the more dangerous problems that drivers deal with especially truck drivers and those having to do long distance journeys with deadlines to meet. Drivers will more often than not ignore the dangers of fatigued driving because of the pressures they are exposed to in meeting delivery deadlines. We deal with some of the problems and try to increase driver awareness of driver fatigue and what can be done to eliminate this.
This lesson looks at one of the most important factors that influences fatigue. That is both the drivers diet and exercise. This is probably the most important part of the scenario of fatigue, and it is ignored totally by most drivers. A little attention to eating correctly and including some activity and the change will bring major benefits to almost everyone from drivers to the community and the economy.
In this course we deal with a problem area that is a large contributor to accidents and fatalities world wide. This is distracted driving, which is escalating with the addition of various distractions that come with improved technology and increasing number of drivers on the roads.The improved technology of vehicles has not had the desired impact of a reduction in accidents due to the impact of a number of external factors. In this course we go through much of the basic issues that face drivers concerning distractions to their driving.
In this course we complete the category of Driver distractions by dealing with a favorite, cellular devices. It is no doubt from surveys done that since the introduction of cellular devices, road accident figures have climbed considerably. Since we cannot ban drivers from having a cellular device with them, we need to focus on trying to increase the awareness of the dangers of using this device while driving. The advancement of technology has increased the level of distraction it causes and is costing tax payers across the world billions. Many countries cannot afford this drain on finances.
---
OTHER FACTORS INFLUENCING DRIVERS: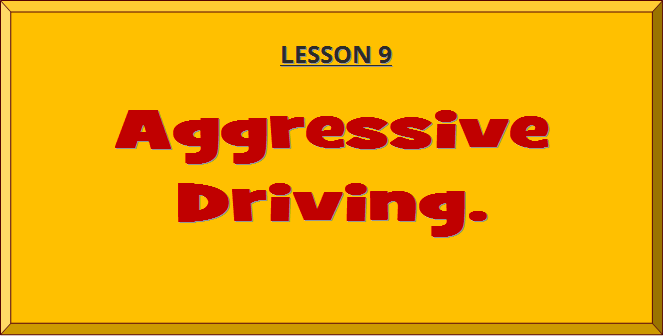 This course deals with a problem that is very prevalent in our society, yet not much talked about. We discuss some of the common causes of aggression on the roads and the things we need to be aware of to prevent ourselves from becoming aggressive on the roads. We also mention a few things that we can do when we are confronted with an aggressive driver. Importantly, we also provide some information on how to deal with the aggression when you identify yourself as an aggresssive driver. There is no quickfix solution but awareness is a good beginning.
With all our advances and newly discovered problems, we have also to deal with a lot of new medications and their side effects. Very little is said about side effects but they are a cause for concern. Almost every type of medication has some or other side effect. Its impact on an individuals driving abilities is our focus in this course, and we mention a few important points for the individual to follow. There are similarities between this course and the next two courses which deal with similar problems.
In this course the focus is more on illicit drugs and how they impact the individual. It is when this person drives while under the influence of this drug that we have a problem that impacts us all. We provide information on the types of drugs, the effects that they have, some of the consequences, and also some steps that the individual can follow to get help. Drugs in our society ranges across all ages and is not just focussed on one age group.
As with the previous course, we discuss alcohol, its effects on people, some of the consequences, and steps to take to get help and rehabilitation. Alcohol is a very big problem, but much as in the tobacco industry, money talks, and so there is a big increase in driving under the influence, especially amoungst the younger drivers. This problem is being addressed but the progress is slow and in the meantime people are dying. We try to inform, improve awareness, and provide information for people to get help.
---
DRIVING SKILLS AND RESPONSIBILITIES: (These courses are in the process of being loaded)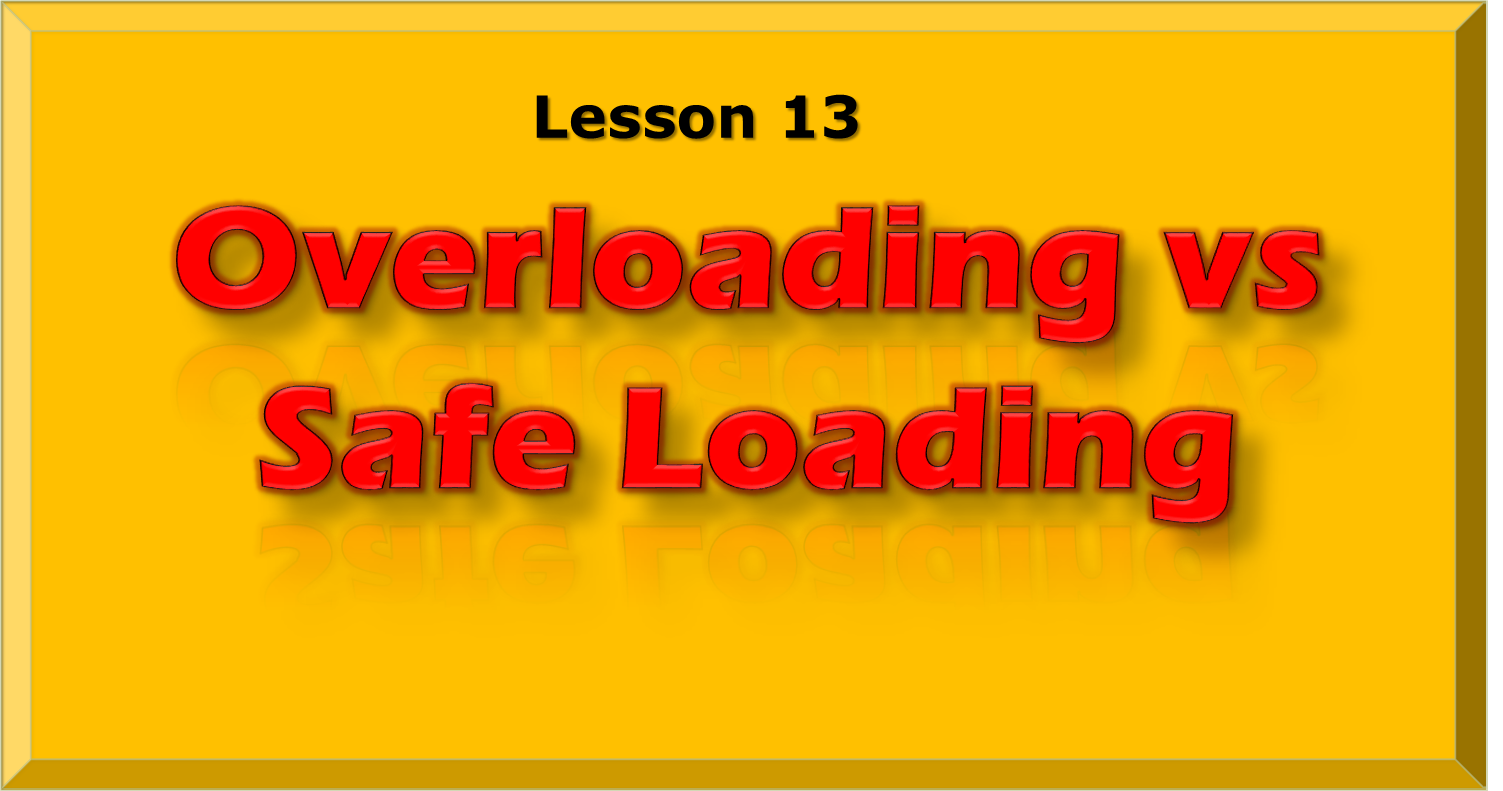 When we deal with overloading, we are dealing with a common practice amoungst many operators. It is easy to overload a vehicle and the examples we show indicate to what extent this goes. In this course we focus on how the overloading affects the vehicle, the roads, and the handling of the vehicle, especially in adverse conditions. By improving the operators knowledge and awareness, we hope to reduce overloading on the roads, and reduce the number of incidents caused by overloading.
Both night driving and driving in the rain is considered as driving in dangerous conditions. Many drivers are ignorant of the dangers they are exposed to when driving in these conditions. We talk about the dangers, how to drive safely in these conditions, and also the things they must be alert for when driving in these conditions. Driving within the vehicles capabilities is one thing, driving within the drivers capabilities is another. Driving in adverse conditions exposes a diiferent level of abilities that the driver must be aware of.
Many drivers are doing long distance drives regularly, but few are aware of the additional stress that this places on both driver and vehicle. In this course we address some of these dangers and we strive to improve operator awareness of these dangers and how to work safely. The one thing that we cannot stress enough and which we mention a few times is the fact that fatigued driving is a big part of long distance driving that makes it so dangerous. We provide some guidelines for the operator to follow.
---
DANGEROUS GOODS AND ITS TRANSPORT: (These courses will be loaded shortly)
---
ADVANCED TRUCKING SKILLS AND PROCEDURES: (These courses will be loaded shortly)
---
THE EFFECTIVE DRIVER ON OUR ROADS: (These courses will be loaded shortly)
---
---
Once you have subscribed to the training and your payment has been processed, you will recieved your login details via mail, you will also have the link to the FESARTA Training page. You need to login, create a new password, and then update or create your profile on this site. You will then have access to the training which has been allocated to you as per your subscription.
To subscribe to the training, you need to click on the PAYPAL link provided below and complete the details of payment. You will also need to send a mail to info@fesarta.com with the reference number provided by the paypal application so that the correct training can be opened for you to complete. Once on the training page, you will be provided with instruction on how to complete the course. If you have any questions regarding this then mail to info@fesarta.com with your details and the content of your query.
The cost per course is $60.00. There is a discount provided for FESARTA members on request.
---
HERE IS THE LINK TO THE ENROLLMENT FORMS TO APPLY FOR ACCESS TO THE TRAINING COURSES
---